SAP B1's QuickStart GL Financial Templates: Your Shortcut to Enhanced Reporting
Posted by Corey Mendelsohn on November 14,2023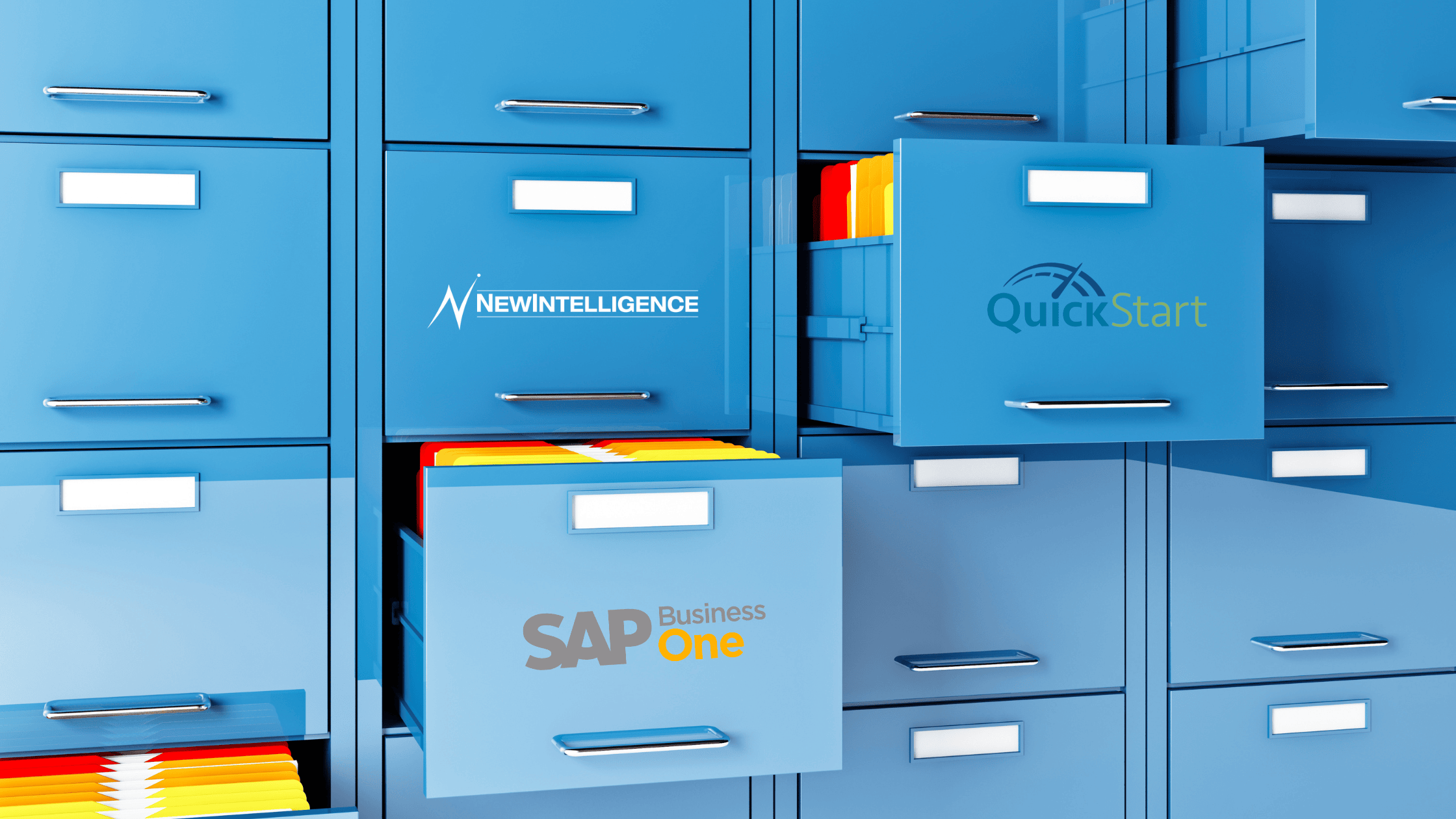 Home - Blog - SAP B1's QuickStart GL Financial Templates: Your Shortcut to Enhanced Reporting
For all SAP Business One customers who are constantly juggling the demands of efficient financial operations and quality reporting, achieving that balance between accuracy and reliability can certainly be a challenge. Fortunately, QuickStart has just released a new feature designed to help you more effectively and efficiently manage your financial reporting needs inside SAP B1 — GL Financial Templates!
Even for those with no prior knowledge of reporting tools, our carefully crafted folders and templates inside of QuickStart make it easy to generate reports quickly that contain the hierarchy you have already set up in SAP B1. Keep reading to learn how this new addition is revolutionizing finance departments' ability to streamline their processes and deliver accurate results effortlessly.
Enhanced Reporting Capabilities with Financial Templates
At NewIntelligence, we've analyzed and crafted an exceptional solution to streamline access to Financial Templates within SAP Business One. Our expert team has meticulously reviewed and designed a robust back-end model to support the needs of the office of finance for enhanced financial management.
Our QuickStart module seamlessly integrates with GL Financial Reporting, adding a new folder called Financial Templates to your Chart of Accounts. The structure of this folder closely resembles the existing Chart of Accounts in our model but is built from the GL templates you have defined in SAP B1.
With this new addition to our model, you gain access to a wide range of templates created by you, giving you the ability to easily filter and select the templates you need. For financial reporting purposes, we've also included the fields for Segment 1, 2, and 3.
This powerful solution not only adds a new table to the back-end data warehouse but also integrates seamlessly with the framework model for reporting. You can rest assured that your existing financial reports will remain unchanged, while still allowing for customization in the future. Furthermore, Finance teams will have the ability to create new reports based on this enhanced design.
Effortless Financial Organization
Elevate your financial management efficiency with our new "GL Templates" folder, meticulously designed to conveniently organize your templates within SAP B1. This dedicated space ensures easy access to templates created for Income Statements, Balance Sheets, and any other KPIs you wish to report on in QuickStart. Revolutionize your workflow today with our user-friendly model for seamless financial reporting.
Here's a breakdown of what you can expect:
Inside the GL Reporting package, you'll find a new folder called GL Templates. This folder will complement the existing GL Chart of Accounts, giving you the option to use both independently.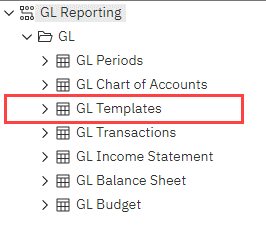 Explore the powerful features of our GL Templates, designed to optimize your SAP B1 experience.
Our carefully crafted templates closely resemble the fields found in the Chart of Accounts folder, with a few subtle differences for enhanced functionality.
For your convenience, we have organized this valuable information into easily manageable subfolders, allowing you to efficiently group and organize your data.
Take full advantage of these intuitive templates to simplify your financial management process: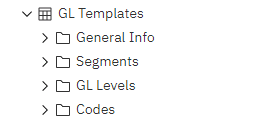 Customizing GL Levels for Template Configuration
The General Info section features the GL Template field, which is crucial for preventing redundancy of information within the same GL Account.
In addition to the existing fields found in the GL Chart of Accounts folder, there are several new fields to take note of:
GL Category and GL Display Order.
We have also included four new fields in the Segments folder for reporting purposes.
The GL Levels are tailored to the configuration of templates in SAP B1.
The Codes folder houses standard fields that serve as points of reference.
With these updates, managing and organizing your financial data becomes more efficient and streamlined.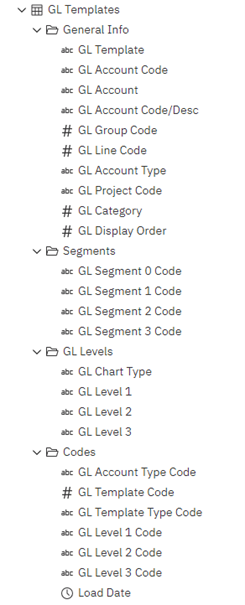 Leveraging the Power of Prompts for Fiscal Period Selection
Discover the exceptional value of GL Financial Reporting within QuickStart with our simple yet comprehensive report.
In the image below, we have emphasized the significance of selecting one or more periods using the Fiscal Period prompt. Moreover, you have the freedom to choose your desired GL Template through the dedicated prompt, enabling effortless customization.
Now you can uncover the true potential of GL Templates and streamline your financial processes with ease.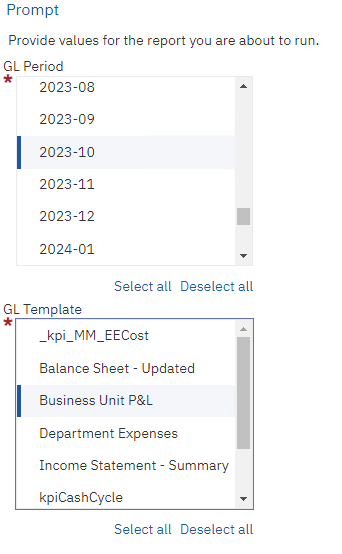 Here's what you would get from this selection: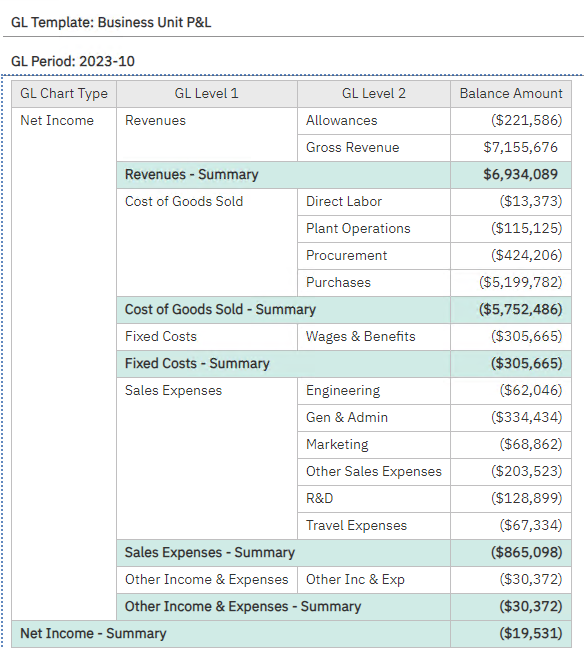 To further customize your experience, you have the option to run the prompt again and choose multiple periods or try a different template.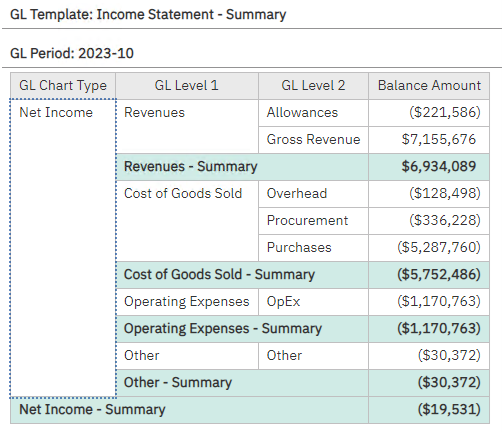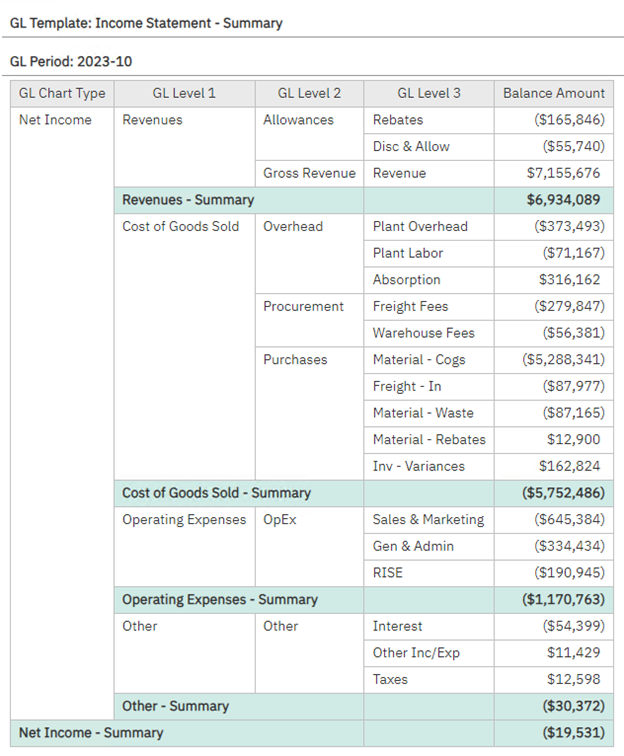 GL Level 3 and GL Account were deliberately omitted to provide a more general overview.
The level of summarization in your report will rely on the fields you choose to include.
Furthermore, additional fields can be effortlessly integrated into the report according to your preferences. As evident below, GL Level 3 has been included for reference.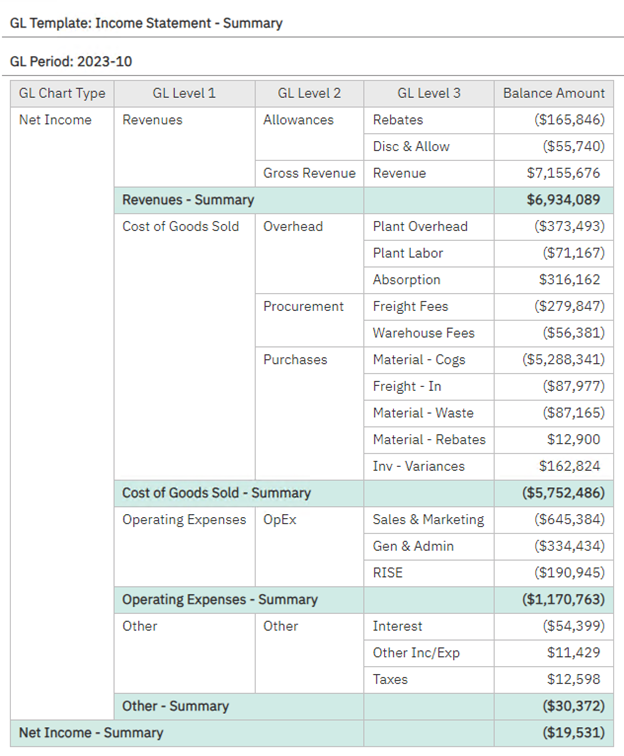 Quick Overview for Improved GL Financial Reporting
Here are a few key takeaways from this blog:
Template Functionality: These templates, like our current GL Chart of Accounts, are designed primarily for reporting purposes.
Enhanced Usability: A dedicated folder has been created to improve the usability of these templates, streamlining your financial reporting tasks.
Focused GL Accounts: When selecting a template, you'll view only the relevant GL accounts and their associated GL Levels, aligning with SAP B1 configurations.
Automated Consolidation: GL accounts linked to these levels automatically consolidate, offering potential benefits for analytical purposes.
Simple Reporting Design: Designing your report becomes hassle-free – just tailor it to your needs.
Additional Access Section: Alongside the default SAP COA, we provide an extra section for convenient access to these Templates, offering an improved gateway to enhanced financial reporting.
We welcome your feedback and encourage you to share your thoughts with us; your input is highly valuable to us.
Conclusion
In conclusion, the "GL Financial Templates" feature in QuickStart for SAP Business One is designed to improve your financial reporting capabilities. By organizing essential information into categories you can spend less time encoding data and more time producing insight. Enjoy the convenience of GL Templates and harness the power of optimizing your GL financial management operations.
All of us here at NewIntelligence are dedicated to providing a comprehensive financial reporting system that meets all of your SAP Business One reporting needs. We invite you to take advantage of our free demo and see firsthand how our solution could be the missing puzzle piece you've been seeking.
Contact us today to get started with QuickStart!

"NewIntelligence (NI) has been a joy to work with."
"NewIntelligence (NI) has been a joy to work with. We were initially concerned that we would not be able to fully use QuickStart as we don't have an in house IT department. NI showed us how easy it is to use Quickstart and they continue to promptly support us if we have any questions."
Bobby Keomany
VP Sales & Marketing, Thai United Food Trading Ltd.
Burnaby, British-Columbia

"The support we have received from them before and after implementation has been phenomenal."
"As CFO at New West Oil, I selected NewIntelligence as the product of choice for helping to get data out of our SAP B1 database in a more user-friendly and meaningful way. Corey Mendelsohn helped guide us through the process in a very structured way, without pressure, but always with great follow-up and thoroughness. "
Terry Cooney
CFO, New West Oil Company LLC
Glendale, Arizona

"It is a pleasure to work with Corey and experience his professionalism to ensure we expand our knowledge."
"We are currently working with Corey, expanding our use of the NewIntelligence tools and excellent Customer Service to ensure his solution fits our needs. It is a pleasure to work with Corey and experience his professionalism to ensure we expand our knowledge and find new ways to extract information from SAP B1"
Andrew Fairlie
VP Operations & Administration, Trux Accessories
Laval, Quebec

"We highly recommend the NI SAP B1 QuickStart for Reporting and Dashboarding Solution."
"Working with NewIntelligence as our IBM Cognos partner has been a great experience. They are extremely knowledgeable, and their customer service is outstanding. The implementation phase went very smoothly, and they have since remained available, even reaching out to us regularly to see how we are doing with the tool. They have continued to patiently support us and help us evolve within the Cognos tool."
Carole Lamarche
Director of Finance, Fischer Technology, Inc.

"We see a good partnership where NewIntelligence will help us meet those challenges and empower Arani's team to access good data."
"NewIntelligence listened to our issues and built a solution that met our needs with the ability to add more users and functionality as we grow. We see a good partnership where NewIntelligence will help us meet those challenges and empower Arani's team to access good data."
Dennis Daoust
VP Operations & Supply Chain, Arani
Montreal, Quebec

"Very professional and much appreciated."
"Following the IBM Cognos training the main user was very pleased with the sessions. The trainer knew the solution well and the training format allowed flexibility for real life questions… they even used our existing data to demonstrate functionality!! So in general, it was very professional and much appreciated."
Nathalie Legault
Manager, IT PMO, Domtar
Montreal, Quebec

"Their promises have been fulfilled 110%."
"I would like to take this opportunity to thank the NewIntelligence team for having completed the mandate of implementation of their Cognos solution. Their promises have been fulfilled 110%. Following last week's training, the excitement is at its peak and our people are looking forward to make use of the solution on a daily basis. A big thank you to all of you!"
Pierre Allard
VP Finance, Regal Confections Inc.
Laval, Quebec

"The experts at NewIntelligence have understood our challenges and guided us very well in our project."
"Since the beginning of our partnership with NewIntelligence, we restructured our cubes, had numerous training and, recently, a major migration. We are very happy with our IBM Cognos 10 release. Our users love the new Workspace tools and they would never go back to the old version for the world."
Jean Longpré
Vice President IT, CDMV Inc.
Saint-Hyacinthe, Quebec