Sales Planning, Budgeting and Forecasting Made Simple for SAP B1 Customers Within A Few Clicks With NewIntelligence's New QuickStart Add-On Module
Posted by Corey Mendelsohn on March 30,2020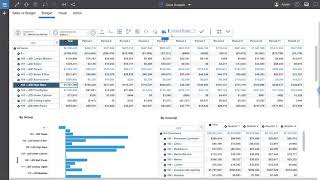 Home - Blog - Sales Planning, Budgeting and Forecasting Made Simple for SAP B1 Customers Within A Few Clicks With NewIntelligence's New QuickStart Add-On Module
In working with SAP B1 customers over the past few years with their proprietary SAP B1 QuickStart solution, NewIntelligence recognized a challenge that these customers were facing when it came to Sales Planning, Budgeting and Forecasting.  There was a need for improved efficiency that customers could manage in house and have a reliable solution beyond the myriad of Excel spreadsheets.
Speaking with SAP B1 customers, we found that most of them did not do any real detailed sales budget for their company.  If they did do a budget, it was at a very high level at either the Item Group, Customer Group or Salesperson level by period.  Introducing any multiples of these attributes into their process made the number of combinations overwhelming and too time consuming to pursue.
While analyzing one customer's need, it had been determined that they wanted to go more granular.  The requirement was to budget sales by individual customer and item at the month level.  However, they also needed to see their data aggregated by various item or customer attributes (i.e. Item Group, Customer Group, etc.).  The number of combinations was extremely difficult to manage and required weeks, if not months, of manipulation to achieve their desired results.  In doing so, the client spent a significant amount of time creating reports and manipulating data in Excel.  Given the amount time this took, this process would only be done annually, and budgets remained static throughout the year.
With the help of NewIntelligence, the client implemented IBM Planning Analytics that not only met their needs but exceeded their wildest expectations.  The time savings alone provided them with ROI within the first year.  It allowed them to plan, budget and forecast from a top down approach.  It also permitted them to leverage historical data as a foundation for their upcoming budget.  In addition, it provided them the ability to adjust forecasts using relative proportions with breakback capability down to the customer, item and salesperson levels.  The solution allowed them to work in sandboxes where they could test out what-if scenarios prior to committing these numbers.  Now their budgets are not only done annually, but they are tweaked throughout the year and now provide an additional revised budget version.
Through this experience, NewIntelligence developed the SAP B1 Quick Start Planning Analytics add-on module to their solution. Now, SAP B1 users facing similar challenges can take advantage of this solution. Business professionals are equipped to create and analyze their own budgets and forecasts against actuals using sophisticated SAP B1 reports and dashboards with little training and no help from IT.
Check out a summary of the recent webinar we held on the release of our Sales Budgeting and Forecasting Module.  Interested in finding out more?  Reach out to us today!

Related
Articles
Get the latest Business Intelligence news and views here.
view all blog posts

"NewIntelligence (NI) has been a joy to work with."
"NewIntelligence (NI) has been a joy to work with. We were initially concerned that we would not be able to fully use QuickStart as we don't have an in house IT department. NI showed us how easy it is to use Quickstart and they continue to promptly support us if we have any questions."
Bobby Keomany
VP Sales & Marketing, Thai United Food Trading Ltd.
Burnaby, British-Columbia

"The support we have received from them before and after implementation has been phenomenal."
"As CFO at New West Oil, I selected NewIntelligence as the product of choice for helping to get data out of our SAP B1 database in a more user-friendly and meaningful way. Corey Mendelsohn helped guide us through the process in a very structured way, without pressure, but always with great follow-up and thoroughness. "
Terry Cooney
CFO, New West Oil Company LLC
Glendale, Arizona

"It is a pleasure to work with Corey and experience his professionalism to ensure we expand our knowledge."
"We are currently working with Corey, expanding our use of the NewIntelligence tools and excellent Customer Service to ensure his solution fits our needs. It is a pleasure to work with Corey and experience his professionalism to ensure we expand our knowledge and find new ways to extract information from SAP B1"
Andrew Fairlie
VP Operations & Administration, Trux Accessories
Laval, Quebec

"We highly recommend the NI SAP B1 QuickStart for Reporting and Dashboarding Solution."
"Working with NewIntelligence as our IBM Cognos partner has been a great experience. They are extremely knowledgeable, and their customer service is outstanding. The implementation phase went very smoothly, and they have since remained available, even reaching out to us regularly to see how we are doing with the tool. They have continued to patiently support us and help us evolve within the Cognos tool."
Carole Lamarche
Director of Finance, Fischer Technology, Inc.

"We see a good partnership where NewIntelligence will help us meet those challenges and empower Arani's team to access good data."
"NewIntelligence listened to our issues and built a solution that met our needs with the ability to add more users and functionality as we grow. We see a good partnership where NewIntelligence will help us meet those challenges and empower Arani's team to access good data."
Dennis Daoust
VP Operations & Supply Chain, Arani
Montreal, Quebec

"Very professional and much appreciated."
"Following the IBM Cognos training the main user was very pleased with the sessions. The trainer knew the solution well and the training format allowed flexibility for real life questions… they even used our existing data to demonstrate functionality!! So in general, it was very professional and much appreciated."
Nathalie Legault
Manager, IT PMO, Domtar
Montreal, Quebec

"Their promises have been fulfilled 110%."
"I would like to take this opportunity to thank the NewIntelligence team for having completed the mandate of implementation of their Cognos solution. Their promises have been fulfilled 110%. Following last week's training, the excitement is at its peak and our people are looking forward to make use of the solution on a daily basis. A big thank you to all of you!"
Pierre Allard
VP Finance, Regal Confections Inc.
Laval, Quebec

"The experts at NewIntelligence have understood our challenges and guided us very well in our project."
"Since the beginning of our partnership with NewIntelligence, we restructured our cubes, had numerous training and, recently, a major migration. We are very happy with our IBM Cognos 10 release. Our users love the new Workspace tools and they would never go back to the old version for the world."
Jean Longpré
Vice President IT, CDMV Inc.
Saint-Hyacinthe, Quebec