Navigating Ocean Orders with Ease: A Deep Dive into QuickStart's Container Management
Posted by Corey Mendelsohn on September 08,2023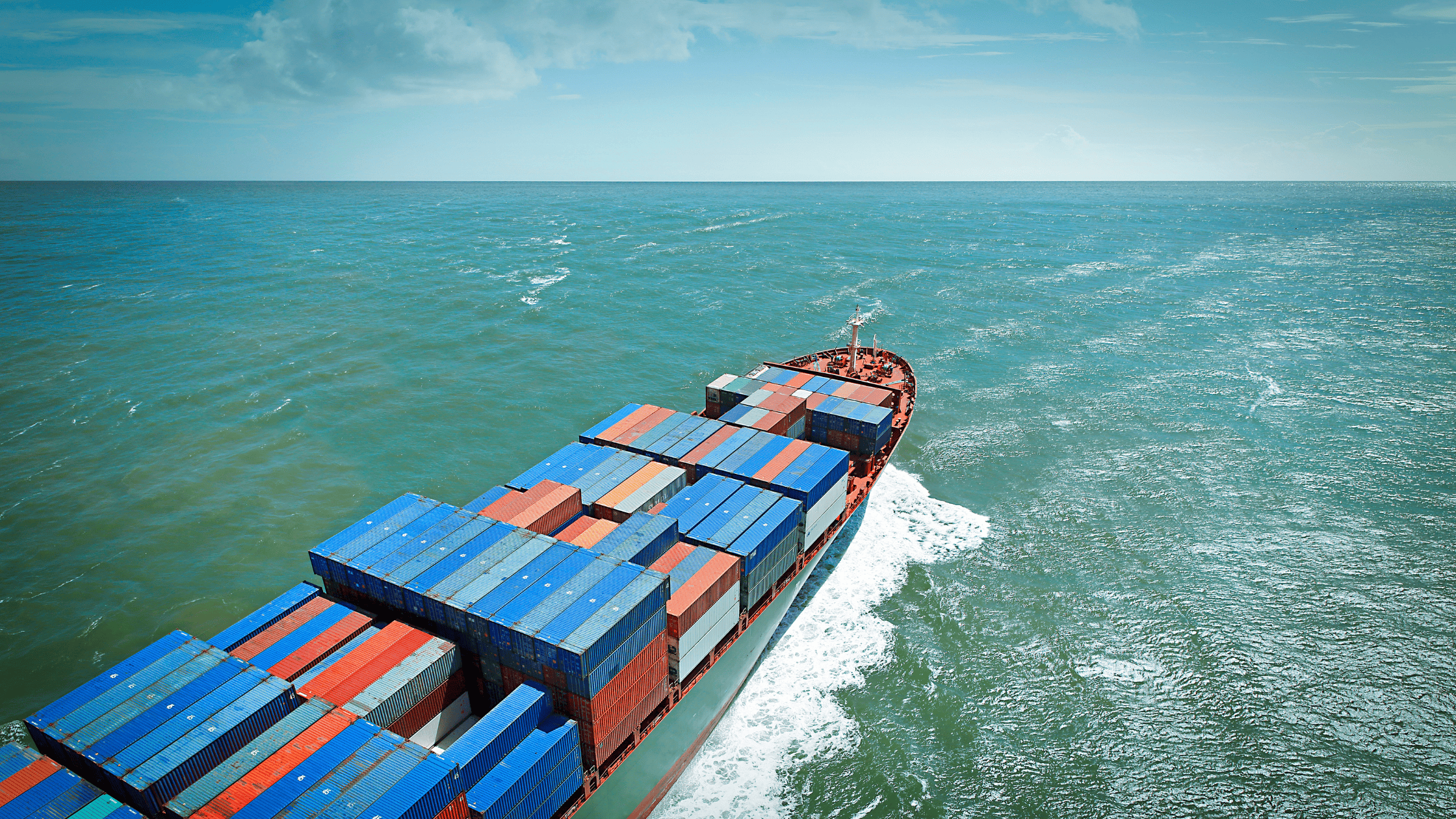 Home - Blog - Navigating Ocean Orders with Ease: A Deep Dive into QuickStart's Container Management
Are you feeling overwhelmed tracking and managing orders for your business that travel on a wavering, unpredictable, even temperamental body of salt water that covers approximately 70.8% of the Earth? You're not alone. The management of ocean orders and containers comes with substantial stakes. With the complex nature of global shipping and port operations, the task of handling digital container management data can be overwhelming – even for experienced SAP Business One users! Fortunately, our QuickStart Container Management module can provide valuable visibility to help you and your team reliably track shipments so you can navigate ocean orders with ease.
Introducing Container Management: Enhance Your Warehouse Operations with Produmex.
At NewIntelligence, we're excited to introduce our new module for QuickStart for SAP Business One – Container Management. This module is our first step into working with Produmex, a powerful third-party add-on integrated with SAP B1.
Produmex WMS for SAP Business One is a comprehensive warehouse management system trusted by many of our SAP B1 customers. It offers robust logistics and functions to effectively manage your inventory and much more. While SAP B1 has its own warehouse application, Produmex takes warehousing to the next level with advanced features and capabilities that we'll discuss in this blog.
Container Management: The Nuts & Bolts
With our Container Management module, you can streamline your warehouse operations and improve efficiency. We'll be showcasing various features of data consolidation and summarization available with this module.
Below is a brief snapshot of how this module appears in SAP Business One.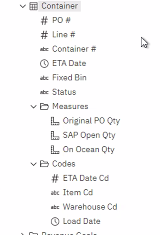 The container folder is linked to other folders such as warehouse, item, vendor master, calendar, and so on, providing you with additional context and filtering options. This ensures you have all the necessary information at your fingertips. As you dive in, you get an immediate visual at the variance calculation between SAP Open Quantity and On-Ocean quantity from Produmex.
This combination of SAP B1 and Produmex in our Container Management module provides valuable insights for better decision-making. Our customers can now gain access to information from both systems, enabling them to make informed and efficient business decisions related to the status of their shipment.
Features of Container Management: A Closer Look
Next, we'll show you how our Container Module highlights items like warehouse, collection, items, descriptions, purchase order numbers, and their corresponding statuses and provides important information related transit and open quantities.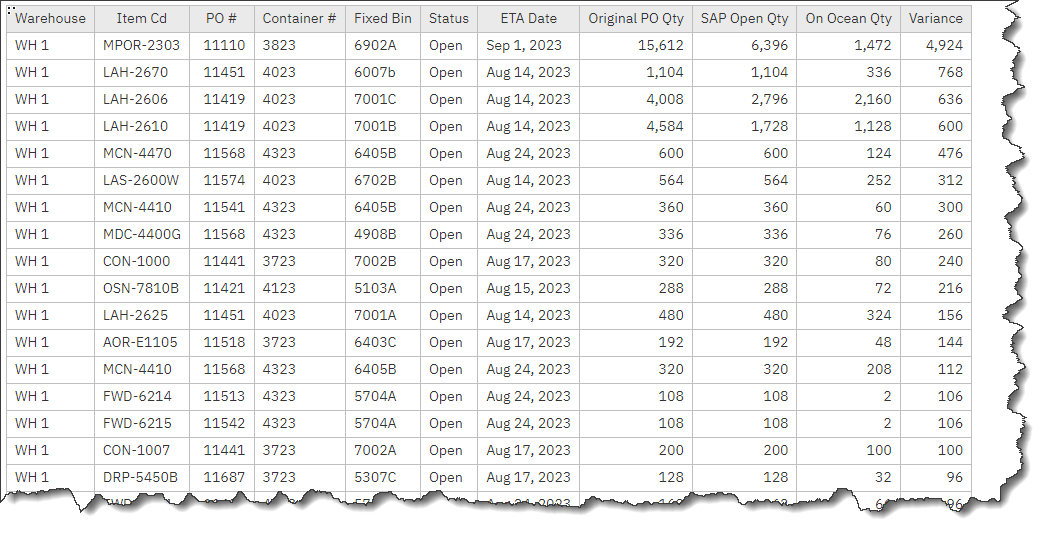 One key feature of this module is that it presents Produmex' information with an ETA, letting you know when items are 'expected to arrive' at the warehouse, helping our customers track their orders more easily.
For example, if we take a closer look under 'Item Cd' FWD-6214 highlighted below, according to SAP, there is currently an open quantity 'SAP Open Qty' of 162 for this item.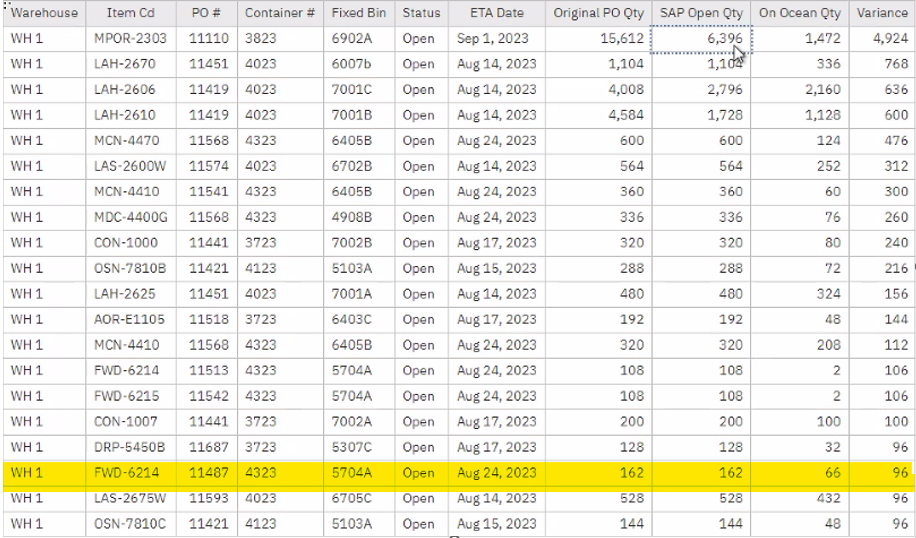 The "On Ocean Qty" reveals that there are currently 66 containers in transit… aka on the ocean, with an expected arrival date of August 24th. This means that out of the open order quantity of 162, the remaining 96 containers have not yet shipped and are under the "Variance" field, and we are uncertain about their arrival date.
As you can see, the "On Ocean" data being pulled from Produmex sheds some extra light on what items are shipped and on their way to the warehouse. This level of visibility has proven to be incredibly beneficial to our customers. While SAP provides one level of information through purchase orders, the information being pulled through the warehouse management system, Produmex, is crucial for greater discernibility on the full shipping status.
Let's continue exploring this report example. As you can see below, the highlighted 'Original PO Qty' shows the amount 15,612, which reflects the original purchase order, we can then easily note that only 6,396 remain to fulfill the order.

This means we have already received about 9,000 containers. Currently, 1,472 containers are on the ocean, leaving us with a remaining variance of 4,924. By analyzing these numbers, we clearly gain insight into when we can expect the partial shipment to arrive: September 1, 2023.
Overall, this report aims to provide a clear and concise overview of your warehouse, purchase orders, and shipment statuses, empowering our customers to have the clarity and visibility they need for their oversea shipments.
Streamline Container Management with Easy Filtering
With our advanced filtering capabilities, you also have complete control over how you search and analyze properties. Filter using other fields in your item master by such things as items by status, brand, category, color, and more to quickly find what you need.
For example, let's say you want to filter by color. Just select the color you're looking for, and voila- your results are refined to match your criteria. But it doesn't stop there. Every property in your item master can be utilized for analysis. Search by primary color, introduction year (as highlighted below), and more to gain valuable insights into your inventory.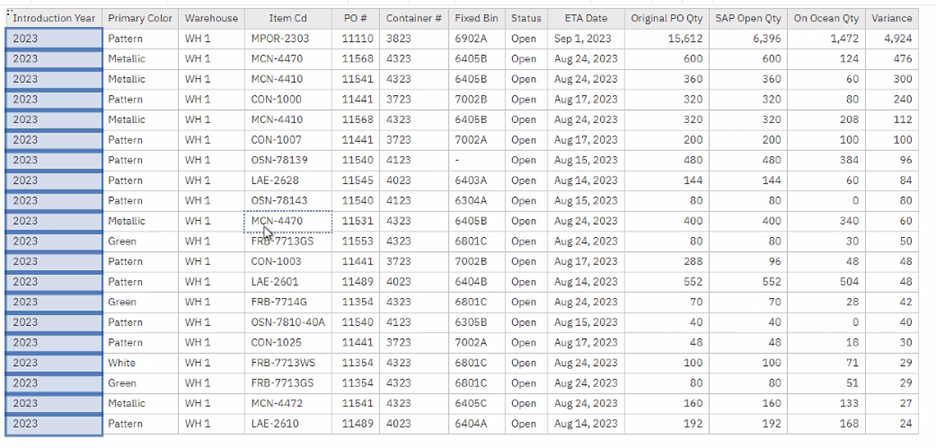 The container management module is designed to provide comprehensive details and insights into purchase orders with a user-friendly filtering system that provided the efficiency you need to monitor shipments. Find and analyze your items with ease and stay on top of your orders and inventory!
We can now easily track incoming shipments and know exactly when they will arrive to fulfill orders. For example, item MCN4470 is expected on August 24th, and it's all coming in the same container.
Having this level of visibility into each purchase order provides us with valuable insights. However, we are also aware that there are still 536 units pending arrival, without a confirmed delivery date. Once these shipments begin, the variance column will update, and the SAP Open Quantity will reflect 536 units.
Why We Chose Produmex
Our container management module functions as an extension of our existing purchasing module, enhancing it with additional clarity of what's happening with your oversea orders. Through the integration of Produmex, we were excited to see the additional visibility we could provide for our reporting solution, specifying in real-time what is on the ocean and when it is expected to arrive.
This is our first venture into Produmex reporting, and we are thrilled to bring this solution to our clients. With this module, you can easily access crucial information such as the PO number, line number, container number, ETA date, fixed bin, status, SAP quantity, original PO quantity, SAP Open Quantity, and on-ocean status. While some of this information is sourced from Standard SAP, the added insight we've been discussing is sourced right from Produmex. By combining these powerful data sources, we bring you a comprehensive view of your purchasing process.
Container management is all about empowering our clients with greater visibility into their purchasing operations. We are proud to introduce this new, integrated module that provides enhanced information and insights. Initiating Produmex WMS into our QuickStart solution with the Container Management module marks the beginning of exciting new modules to come, especially if customers want to take advantage of other data sets found in Produmex – we'd be happy to accommodate and customize the perfect module!
Overall, this integration brings immense value to our customers and sets the stage for further innovations with warehouse management solutions we're looking forward to exploring.
Conclusion
Navigating ocean orders with ease is now possible thanks to this exciting new module. The seamless integration with Produmex allowed us to access container information, track incoming shipments, and see when the orders would arrive. The combination of both platforms brings forth valuable visibility into the purchasing process – helping businesses optimize their shipping processes.
Knowing where your shipment is at any given moment is essential in helping you make wise decisions for timely deliveries and optimal resource management.
Contact us for a free demo of QuickStart for SAP B1 and let us know what new modules will bring smooth sailing for your reporting and dashboarding needs!

"NewIntelligence (NI) has been a joy to work with."
"NewIntelligence (NI) has been a joy to work with. We were initially concerned that we would not be able to fully use QuickStart as we don't have an in house IT department. NI showed us how easy it is to use Quickstart and they continue to promptly support us if we have any questions."
Bobby Keomany
VP Sales & Marketing, Thai United Food Trading Ltd.
Burnaby, British-Columbia

"The support we have received from them before and after implementation has been phenomenal."
"As CFO at New West Oil, I selected NewIntelligence as the product of choice for helping to get data out of our SAP B1 database in a more user-friendly and meaningful way. Corey Mendelsohn helped guide us through the process in a very structured way, without pressure, but always with great follow-up and thoroughness. "
Terry Cooney
CFO, New West Oil Company LLC
Glendale, Arizona

"It is a pleasure to work with Corey and experience his professionalism to ensure we expand our knowledge."
"We are currently working with Corey, expanding our use of the NewIntelligence tools and excellent Customer Service to ensure his solution fits our needs. It is a pleasure to work with Corey and experience his professionalism to ensure we expand our knowledge and find new ways to extract information from SAP B1"
Andrew Fairlie
VP Operations & Administration, Trux Accessories
Laval, Quebec

"We highly recommend the NI SAP B1 QuickStart for Reporting and Dashboarding Solution."
"Working with NewIntelligence as our IBM Cognos partner has been a great experience. They are extremely knowledgeable, and their customer service is outstanding. The implementation phase went very smoothly, and they have since remained available, even reaching out to us regularly to see how we are doing with the tool. They have continued to patiently support us and help us evolve within the Cognos tool."
Carole Lamarche
Director of Finance, Fischer Technology, Inc.

"We see a good partnership where NewIntelligence will help us meet those challenges and empower Arani's team to access good data."
"NewIntelligence listened to our issues and built a solution that met our needs with the ability to add more users and functionality as we grow. We see a good partnership where NewIntelligence will help us meet those challenges and empower Arani's team to access good data."
Dennis Daoust
VP Operations & Supply Chain, Arani
Montreal, Quebec

"Very professional and much appreciated."
"Following the IBM Cognos training the main user was very pleased with the sessions. The trainer knew the solution well and the training format allowed flexibility for real life questions… they even used our existing data to demonstrate functionality!! So in general, it was very professional and much appreciated."
Nathalie Legault
Manager, IT PMO, Domtar
Montreal, Quebec

"Their promises have been fulfilled 110%."
"I would like to take this opportunity to thank the NewIntelligence team for having completed the mandate of implementation of their Cognos solution. Their promises have been fulfilled 110%. Following last week's training, the excitement is at its peak and our people are looking forward to make use of the solution on a daily basis. A big thank you to all of you!"
Pierre Allard
VP Finance, Regal Confections Inc.
Laval, Quebec

"The experts at NewIntelligence have understood our challenges and guided us very well in our project."
"Since the beginning of our partnership with NewIntelligence, we restructured our cubes, had numerous training and, recently, a major migration. We are very happy with our IBM Cognos 10 release. Our users love the new Workspace tools and they would never go back to the old version for the world."
Jean Longpré
Vice President IT, CDMV Inc.
Saint-Hyacinthe, Quebec