Unlocking Success: QuickStart for SAP Business One Reporting Explained
Posted by Corey Mendelsohn on October 27,2023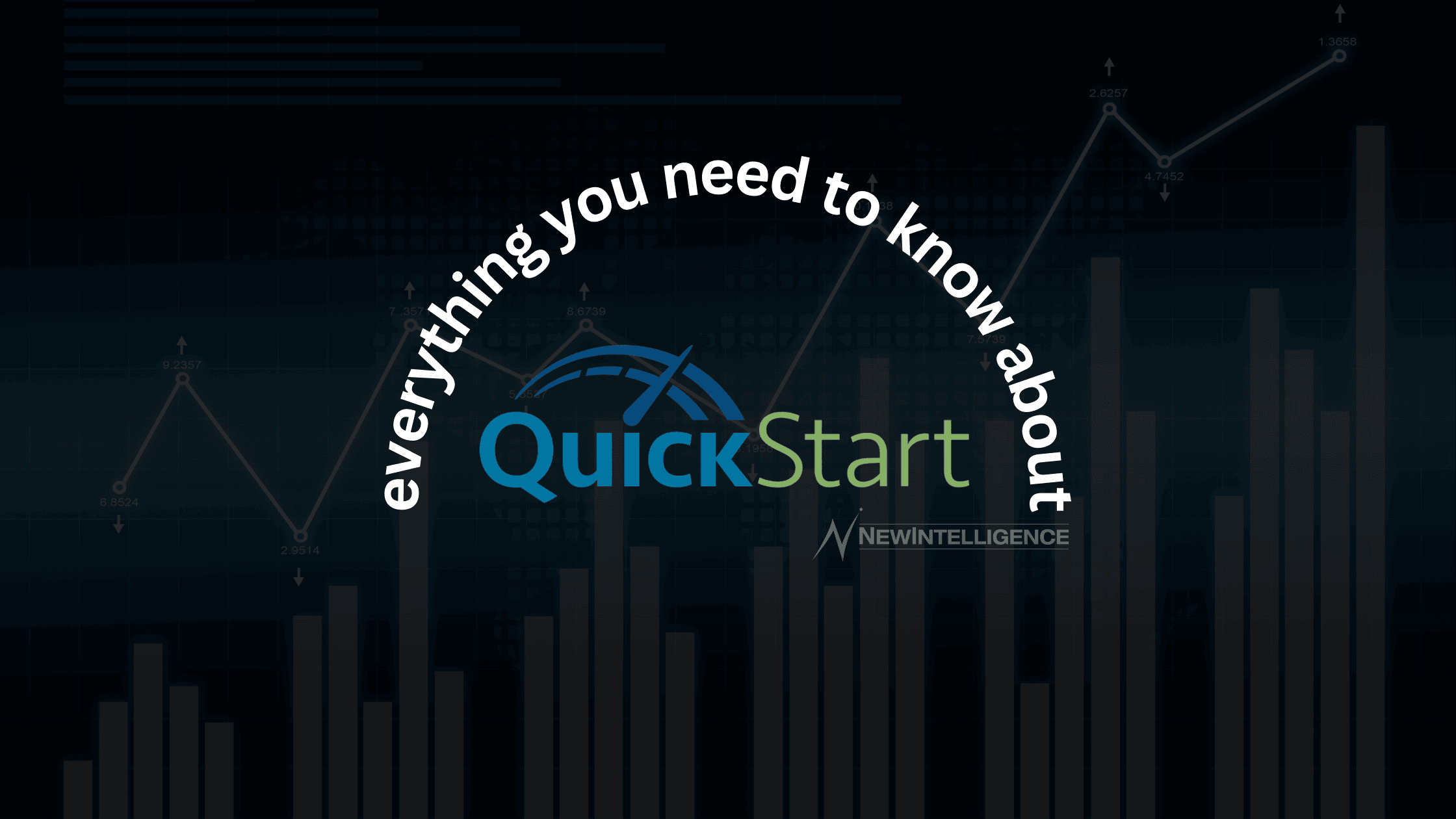 Home - Blog - Unlocking Success: QuickStart for SAP Business One Reporting Explained
For finance and operations teams relying on SAP Business One reporting tools, having a comprehensive understanding of how to best leverage the extensive solutions available is essential. With so many distinct aspects of leveraging the platform, it can be overwhelming to stay up to date with all the latest features and advancements in these tools. That is why we have developed our QuickStart solution for SAP Business One, which encompasses over 20 modules for better Reporting and Dashboarding inside SAP B1. We empower business professionals with the resources to unlock success from their reports and dashboard visuals quickly but efficiently. If you want to take your understanding of data presentation with SAP B1 Reporting Tools to an entirely new level of simplicity and efficiency, then strap yourselves in – this one is for you.
The Beginning: The Ins & Outs of Transforming SAP B1
At NewIntelligence, we have been experts in IBM technology for over three decades. In 2017, we developed a breakthrough solution for SAP Business One that revolutionized how financial, and operations users utilized the platform.
Our innovative approach involved creating customized modules within SAP Business One for key areas such as quotes, orders, sales, and inventory management. Initially, we were approached by an SAP B1 customer who was frustrated with their reporting capabilities. To address their needs, we built a brand-new reporting database from scratch. (See Arani Case Study)
By extracting data from SAP Business One, we seamlessly integrated it into our optimized reporting database. What started as just three or four modules has now expanded to an impressive collection of 22 modules for SAP Business One, and we continue to grow and evolve.
Quick and Adaptable: Our Promise for Implementation
Getting started with our solution is a breeze, taking only two to three weeks, depending on your chosen modules. It's not just fast; it's also fully customizable. Whether you need assistance with orders, sales, or purchasing, we've got you covered with a wide range of modules. We've designed our solution to be user-friendly, even for small SAP B1 customers. In fact, some of our early customers had annual revenues of three to five million dollars. Regardless of whether your company's revenue is $5 million or $100 million, the only factor to consider is the number of users who will access the solution.
No IT Assistance Required: Generating Reports with Ease
At NewIntelligence, we recognize the significance of optimizing our customers' existing infrastructure. That's why we provide software that seamlessly integrates with SAP Business One, eliminating the necessity for an extra license and ultimately saving customers money.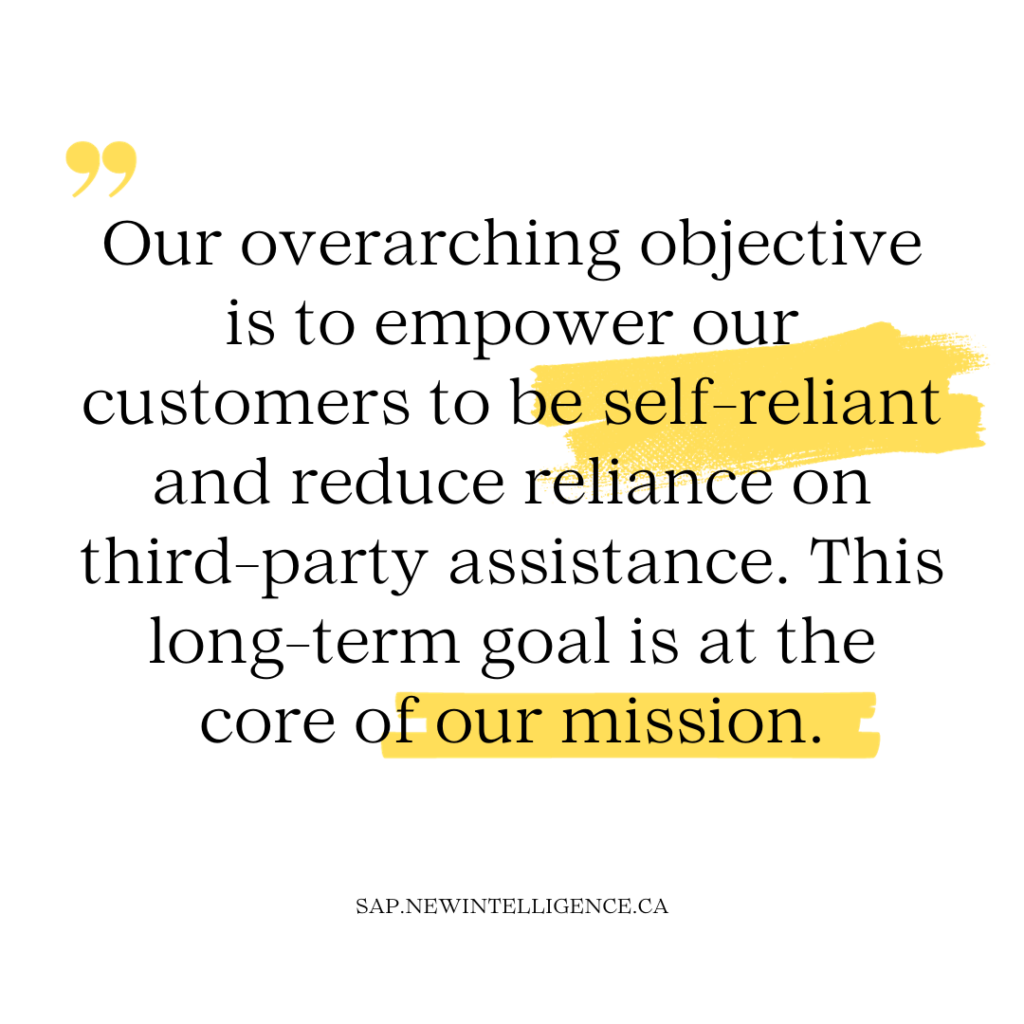 We believe in empowering our customers with the ability to independently handle various queries and tasks, without constantly relying on their business partners or external consultants. Our goal is to provide a self-service solution that enables customers to modify or create new reports and dashboards without any hassle.
Our QuickStart solution comes ready to use, straight out of the box. It grants customers the freedom to generate their own reports without the need for IT assistance or external support. However, we also recognize that everyone has unique requirements. That is why we offer customization options to ensure our customers' specific needs are met.
Choose us for a cost-effective, user-friendly solution that puts you in control of your own infrastructure.
Experience the freedom of independence, without sacrificing the support you need.
Budget-Friendly Solutions: Starting at Just $5,995
Our solution boasts a highly attractive pricing, enabling customers to adopt it without straining their budget. Starting at just $5,995, it presents an affordable option for getting started. What's even better is that customers can tailor the solution to their specific needs. With 22 modules available, not everyone needs to begin with all of them.
Customers can commence with the fundamental four modules for quotes, orders, sales, and inventory. As their business expands, adding more modules becomes a seamless process, ensuring they don't bite off more than they can chew. This approach empowers customers to start small and progressively enhance their capabilities.
Simplified Reporting for All Skill Levels
Introducing an upgraded reporting capability within SAP Business One, meticulously crafted for exceptional user-friendliness. Unlike other tools on the market, our solution eradicates the necessity for extensive technical expertise, ensuring accessibility for users at all skill levels. We recognize that not everyone possesses familiarity with intricate reporting features such as tables and relationships, so we've streamlined the process.
What's even better is that once you've generated a report, you can effortlessly configure prompts and automate repetitive tasks. This streamlines the reuse of your customized reports, saving you valuable time and effort.
Embark on the journey of seamless reporting with our intuitive solution today.
A Win-Win: Customer Feedback Drives Feature Development
Let us share an inspiring story that exemplifies NewIntelligence's commitment to tailoring QuickStart for SAP Business One to specific customer needs. Recently, one of our valued customers expressed the desire to have cost centers displayed in every column of their financial report, enabling them to gain deeper insights into overall performance.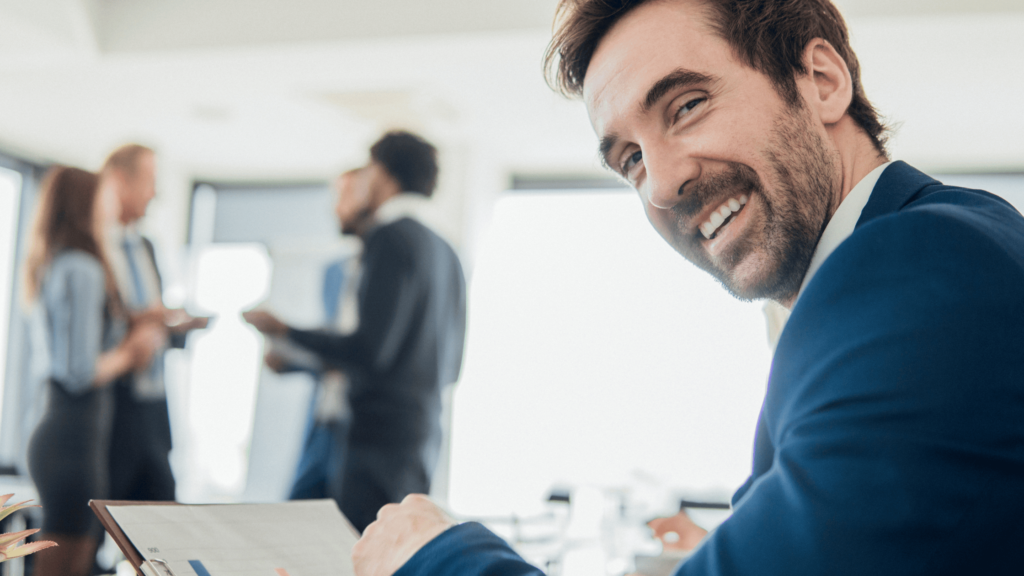 NewIntelligence embraced this challenge and successfully incorporated this feature into their Profit and Loss (P&L) statement, offering the level of detail they were seeking. Customers can explore the details of this success story in NewIntelligence's blog, where the case study delves into how this customization transformed their reporting.
This is just one instance of proactive collaboration with NewIntelligence's customers. As NewIntelligence continues to develop new functionalities, customers are actively contributing to the innovation process. Their feedback and insights are invaluable, and they often share additional features they'd love to implement.
During financial reporting demonstrations, NewIntelligence has witnessed firsthand the excitement and eagerness of financial controllers who exclaim, "Where have you been all my life? I want that – it's exactly what I need!" The enthusiasm of customers inspires NewIntelligence to push the boundaries of what QuickStart can achieve, creating a win-win scenario where customer needs drive feature development.
Visualizing Financial Data: Opening, Closing, and Period Balances
Returning to a pivotal area of customer focus, our financial reporting capability encompasses a range of essential features. This includes the ability to generate Profit and Loss (P&L) statements, Balance Sheets, and Trial Balances.
What sets us apart is the capacity to drill down to the granular details, providing access  to journal entries and transaction specifics. This means you can effortlessly explore the data you require, including memo fields and project codes, all at your fingertips. It's about empowering you with comprehensive insights and making financial data readily accessible.
What truly distinguishes our solution is its impressive functionality. We provide comprehensive financial reporting at a reasonable cost, ensuring our customers get exceptional value. Beyond the existing features, we've integrated Income Statements, Balance Sheets, Trial Balances, Accounts Payable (AP), and Accounts Receivable (AR) into QuickStart. As a testament to our commitment to continuous improvement, we're actively working on incorporating General Ledger (GL) templates from SAP into our reporting tool. This integration will empower users to seamlessly call a GL template and run it within our system.
In the realm of SAP, one of the perennial challenges is comparing multiple periods side by side. With QuickStart, we've tackled this head-on and simplified the process. You can effortlessly view and compare multiple opening, closing, and period balances on your balance sheet.
We invite you to experience the remarkable ease and efficiency of our financial reporting capabilities with QuickStart from NewIntelligence. Discover how we transform the complex into the straightforward, putting the power of insightful financial reporting right at your fingertips.
A Closer Look at QuickStart's Operations Side
Let's now delve into QuickStart's Operations side, a vital component of our solution that numerous customers rely on. In addition to the fundamental modules for Quotations, Orders, Invoicing, and Inventory, we've mentioned earlier, we also provide specialized add-ons designed to address customer's day-to-day operational reporting requirements.
Consider our Fulfillment module within QuickStart for SAP Business One, for example. This invaluable tool empowers you to closely monitor your fulfillment rates, offering deeper insights and analysis into your company's shipments. You can analyze fulfillment rates at various levels, including orders, invoices, and even specific products, enabling you to proactively identify and resolve potential issues.
It's crucial to emphasize that compliance is of utmost importance, especially when dealing with larger organizations and handling high order volumes. Failing to meet their regulations and rules can result in substantial penalties that are best avoided.
If you're eager to explore our Fulfillment module and its capabilities in more detail, please check out our blog for additional information.
Precision in Planning – Simplifying the Budgeting Process
In the world of financial planning, our Budgeting and Forecasting tier is the crown jewel, making use of IBM Planning Analytics. It's the part of our QuickStart solution where data comes to life with captivating visual and interactive dashboards. Here, you can plan with precision, zooming in or out to different levels of detail, and simplifying the budgeting and forecasting process like never before.
It's more than just a tool; it's a transformation in how you handle Sales Budgeting and Forecasting using SAP Business One. With QuickStart, your team can become budgeting and forecasting wizards with minimal training. Dive into the numbers, analyze your budgets and forecasts against actuals, and gain insights that lead to informed decisions.
But that's not all. QuickStart takes you further into the future. Imagine the ability to compare your current year's budget against actual sales from the previous year, sliced and diced by item group, customer channel, and salesperson. It's like having a crystal ball into your business's financial performance.
And speaking of the future, QuickStart enables you to create budget simulations. This means you can test different financial scenarios, make educated estimates, and gain clarity about your company's future financial performance. No more guesswork; you can chart your course with confidence.
So, if you're ready to unlock the potential of your budgeting and forecasting, QuickStart is your key. It's not just about numbers; it's about empowering your team, gaining insight, and setting sail for a brighter financial future.
Interested in Sales Budgeting and Forecasting? Read here for more.
Specialization without Boundaries: Our Niche in SAP Integration
While we may not serve as SAP B1 implementers, our solution is tailored to meet the specific needs of SAP B1 users. Our team has extensive experience working with SAP, having supported numerous customers over the years. We do not engage in direct modifications to the SAP system itself. Instead, our focus lies in acquiring any essential additions, such as UDFs (User-Defined Fields), with the assistance of a consultant or SAP partner. This approach enables us to maintain our expertise and specialization in our domain without encroaching on areas beyond our scope.
Our role primarily involves extracting information from SAP and seamlessly importing it into a database optimized for reporting. From there, we offer a range of powerful reporting tools and advanced analytics technology through IBM Cognos. These tools enable you to efficiently analyze and visualize data, enhancing your decision-making process.
Data Synchronization in Our Solution's Architecture
Our solution's architecture has adapted to the changing landscape of technology. It all began with a design tailored to customers who predominantly used SQL Server. We built on their existing setup by creating a separate space for SQL Server alongside SAP Business One. This allowed us to gather the necessary information for reports without causing any disruptions.
But, when we switched to HANA, we ran into some issues with how HANA and SQL work together. To solve this, we set up a connection to HANA and duplicated the important data in SQL Server. This change was crucial because it made our system work for customers using either SQL Server or HANA, no matter their technical preferences.
Regardless of whether our customers use SQL Server or HANA, we always make sure to gather the necessary data and put it into our SQL server database, which serves as the data hub for SAP Business One.
On Premise or in the Cloud
For customers operating in the cloud, we offer two options. They can either use their own cloud-based platform or on-premise SQL Server, or we can help them set it up. We also connect to the HANA database and collect the needed data without making any changes to the customer's current systems.
In our current setup, we keep around 85-100 tables in sync between SAP Business One and our SQL server database. This provides a strong foundation to work from. Ultimately, it's up to our customers to decide whether they want to stay with their current setup or move to the cloud based on their needs and preferences.
For those who want a fully cloud-based experience, we provide support to set up a cloud environment. Whether we use the customer's existing setup or suggest new solutions, our main goal is to simplify and automate the reporting process, which saves our customers a lot of time in the long run.
Let's Work Together
If you're interested in discovering more about QuickStart for SAP Business One, we'd love to arrange a full demo of the system for you. This way, you can gain a clear understanding of its possibilities and capabilities. If you find this intriguing, we're excited about the opportunity to explore how we can collaborate to align your interests with ours.
Conclusion
Accurate data reporting and tracking are vital for any business's success. The comprehensive QuickStart solution for SAP Business One simplifies gaining deep insights into your company's operational and financial performance. We hope this blog has shown you how QuickStart's features can enhance your visibility in operations and financial reporting as well as sales budgeting and forecasting. QuickStart is not only easy to install but also requires minimal configuration to initiate rapid reporting and dashboarding. Whether you prefer watching our regular videos on social channels, YouTube, or direct contact, we're here to support you with implementation, upgrades, or any technical questions regarding QuickStart or SAP Business One. If you're considering using QuickStart with your existing SAP B1 system, don't hesitate to reach out for a free demo where we can guide you through the necessary modules for reporting.
Thank you for investing your time to explore our product offering; we anticipate hearing from you soon!

"NewIntelligence (NI) has been a joy to work with."
"NewIntelligence (NI) has been a joy to work with. We were initially concerned that we would not be able to fully use QuickStart as we don't have an in house IT department. NI showed us how easy it is to use Quickstart and they continue to promptly support us if we have any questions."
Bobby Keomany
VP Sales & Marketing, Thai United Food Trading Ltd.
Burnaby, British-Columbia

"The support we have received from them before and after implementation has been phenomenal."
"As CFO at New West Oil, I selected NewIntelligence as the product of choice for helping to get data out of our SAP B1 database in a more user-friendly and meaningful way. Corey Mendelsohn helped guide us through the process in a very structured way, without pressure, but always with great follow-up and thoroughness. "
Terry Cooney
CFO, New West Oil Company LLC
Glendale, Arizona

"It is a pleasure to work with Corey and experience his professionalism to ensure we expand our knowledge."
"We are currently working with Corey, expanding our use of the NewIntelligence tools and excellent Customer Service to ensure his solution fits our needs. It is a pleasure to work with Corey and experience his professionalism to ensure we expand our knowledge and find new ways to extract information from SAP B1"
Andrew Fairlie
VP Operations & Administration, Trux Accessories
Laval, Quebec

"We highly recommend the NI SAP B1 QuickStart for Reporting and Dashboarding Solution."
"Working with NewIntelligence as our IBM Cognos partner has been a great experience. They are extremely knowledgeable, and their customer service is outstanding. The implementation phase went very smoothly, and they have since remained available, even reaching out to us regularly to see how we are doing with the tool. They have continued to patiently support us and help us evolve within the Cognos tool."
Carole Lamarche
Director of Finance, Fischer Technology, Inc.

"We see a good partnership where NewIntelligence will help us meet those challenges and empower Arani's team to access good data."
"NewIntelligence listened to our issues and built a solution that met our needs with the ability to add more users and functionality as we grow. We see a good partnership where NewIntelligence will help us meet those challenges and empower Arani's team to access good data."
Dennis Daoust
VP Operations & Supply Chain, Arani
Montreal, Quebec

"Very professional and much appreciated."
"Following the IBM Cognos training the main user was very pleased with the sessions. The trainer knew the solution well and the training format allowed flexibility for real life questions… they even used our existing data to demonstrate functionality!! So in general, it was very professional and much appreciated."
Nathalie Legault
Manager, IT PMO, Domtar
Montreal, Quebec

"Their promises have been fulfilled 110%."
"I would like to take this opportunity to thank the NewIntelligence team for having completed the mandate of implementation of their Cognos solution. Their promises have been fulfilled 110%. Following last week's training, the excitement is at its peak and our people are looking forward to make use of the solution on a daily basis. A big thank you to all of you!"
Pierre Allard
VP Finance, Regal Confections Inc.
Laval, Quebec

"The experts at NewIntelligence have understood our challenges and guided us very well in our project."
"Since the beginning of our partnership with NewIntelligence, we restructured our cubes, had numerous training and, recently, a major migration. We are very happy with our IBM Cognos 10 release. Our users love the new Workspace tools and they would never go back to the old version for the world."
Jean Longpré
Vice President IT, CDMV Inc.
Saint-Hyacinthe, Quebec