NewIntelligence Celebrates 15 Years!
Posted by Corey Mendelsohn on March 16,2023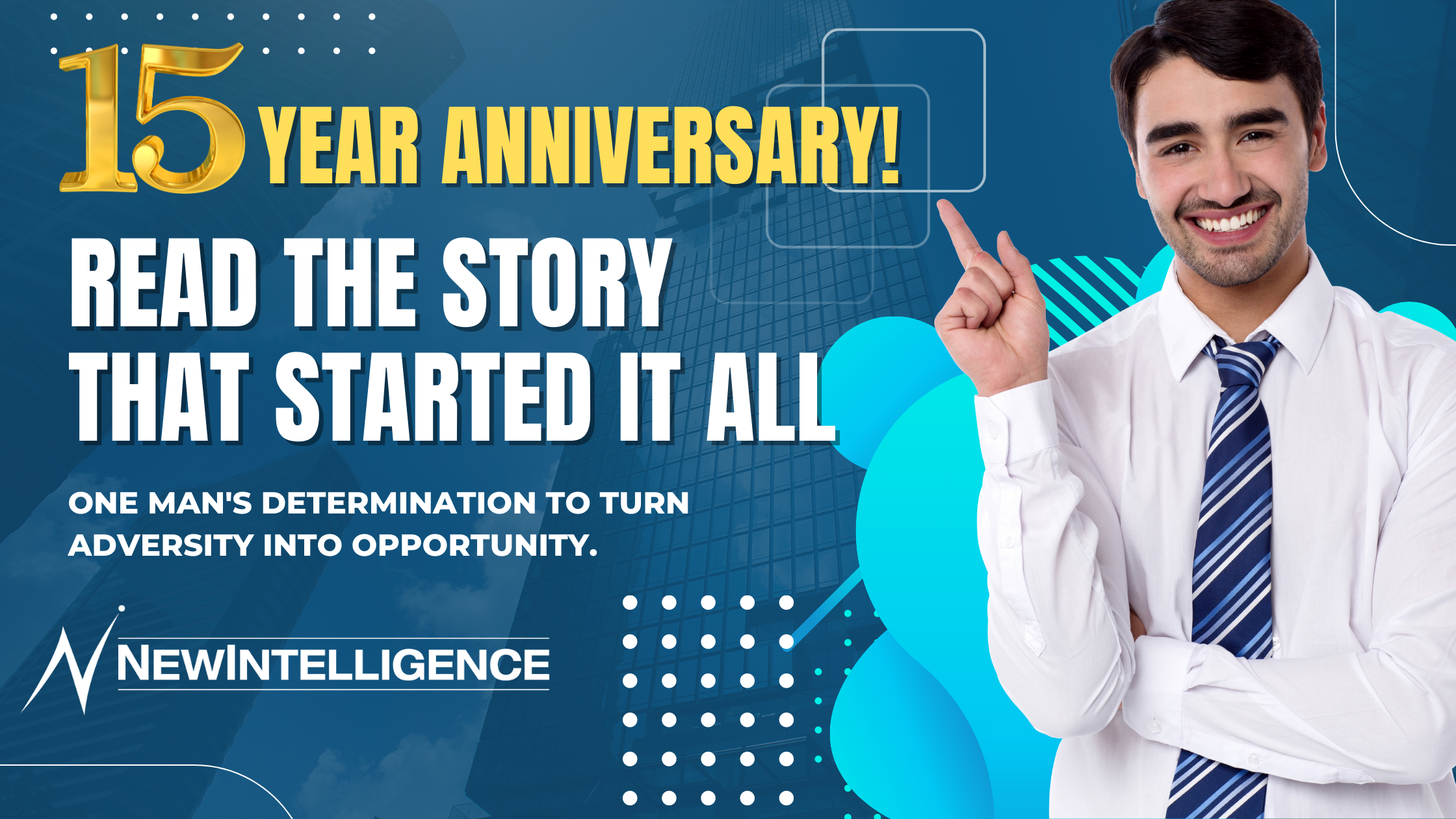 Home - Blog - NewIntelligence Celebrates 15 Years!
It all started with one man's determination to turn adversity into opportunity. Everyone remembers 2008 and the emotional pit that sunk deeply in the stomachs of so many. The economic crisis of 2008 was the most serious financial crisis since the Great Depression (1929).
When Corey Mendelsohn, our Founder and President welcomed his second daughter into the world there was turbulence in the air. Despite this happy milestone, he had just been asked to step down from a director position at a renowned consulting firm during this unprecedented recessionary period.
This is the story of a giant leap of faith and the creation of NewIntelligence many years ago.
Cognos Before IBM
The acquisition of Cognos by IBM in January 2008 was a defining moment for both companies. Cognos, already one of the largest software companies in Canada, became one of IBM's largest acquisitions to date at the time. With a staggering price tag of 4.9 billion dollars, the acquisition signaled IBM's commitment to expanding its footprint in the data analytics space.
The Recession Hits
As IBM announced its acquisition of Cognos, the subsequent financial pressure of the recession fell upon the company Corey had worked for, and although highly-valued by his previous employer, Corey was suddenly without work. However, his disappointment was short-lived, as he quickly realized that this presented an opportunity to create something new given the decade plus of experience and relationships he had with Cognos.
A New Opportunity
The same day he got the news on the dismissal, Corey decided to send out a barrage of emails to customers that he had worked for in the past. Within less than 24 hours, he received interest from one former client which turned into a 3-month contract agreement. A week later, another former client provided a second 3-month contract agreement. From these two mandates, Corey felt comfortable that he would be able to manage for the upcoming year. He felt that initially this would be something temporary and he would eventually go back to working for another consulting firm at the end of these mandates. Multiple consulting firms were speaking to him and expressed interest in having him join their organization. However, given his new mandates, he felt he had time to wait and explore his options without having to jump into something quickly.
With these two mandates in hand, Corey took the bold step of starting out as an independent contractor and established himself as a sole proprietor. With his deep understanding of Cognos and its capabilities in reporting and dashboarding, Corey was able to offer guidance with great precision, offering customized solutions that met the unique needs of his clients.
He quickly saw how companies had been struggling to advance their reporting strategies and cognitive analytics environments. His clients were quickly amazed at the quality and speed of his work.
While he had been working on these two mandates, a request came in to do a 2-day short term mandate for a new client he had been introduced to. Not realizing at the time, his decision to accept this 2-day mandate would change history and set the stage for the creation of what NewIntelligence is today.
Corey's two-day mandate showed a remarkable level of efficiency as he achieved in 2 days what another consulting firm couldn't manage over 6 months. The impact he had on that company not only turned into a long-term engagement (which now spans 15-years), but gave Corey the validation that his expertise and knowledge is valuable to keep doing this as his new career path.
As the demand grew for his expertise, Corey realized he needed help, and he found the perfect team of experts who shared his passion for high-level accuracy and dedicated support and called his business NewIntelligence. The name "NewIntelligence" immediately came to him during an IBM conference – and its connotations of innovation, growth, and discovery perfectly embodied the services provided by his company.
The Launch of NewIntelligence
With his extensive experience working with Cognos and his commitment to delivering innovative solutions, NewIntelligence quickly became a go-to resource for businesses looking to streamline their data management, reporting, and dashboarding strategies.
Today, NewIntelligence is a thriving business that owes its success to Corey's quick thinking and expert knowledge of Cognos.
QuickStart for SAP Business One is Created!
At NewIntelligence, our primary objective was to develop a solution that offers real value to customers and encourages them to keep returning. In 2018, 10 years after the creation of the company, a new direction was forming which would shape the path the company would go down. A foray into a Business Analytics deployment with a new client, who was running SAP Business One led to the uncovering of an exciting opportunity. Through close collaboration, our team was able to develop three custom-made modules that would eventually become seventeen unique solutions – giving us the edge in providing top quality business analytics services today!
As we joined the SAP Business One market, we designed our own QuickStart solution for reporting and dashboarding within the SAP B1 space. Our modules seamlessly integrate with the SAP Business One platform, addressing a significant gap and opportunity for SAP B1 customers. We are committed to introducing additional modules and establish direct relationships with customers who have been sharing with us their feedback on what they want changed on their reporting platforms, making their jobs easier and quicker in the long run.
The Future of a Growing Partnership
We thrive on fostering stronger partnerships with other SAP Business One partners and solution providers. Through collaboration, we hope to bring forth a winning formula that benefits everyone. We love seeing our partners promoting our solution to their customers, recognizing its value and the benefits it can provide to their organization. It's a win-win model.
New Territories for NewIntelligence
Expanding one's business to new territories is always a challenge, but with the right approach, it can be a fruitful endeavor. Our company has already established a strong foothold with our customers in Canada and the US. However, we're aware of the potential in Latin America and Europe and are looking forward to exploring that market as well. With our expertise in reporting, dashboarding and planning, we're confident that we can create compelling solutions that resonate with our SAP Business One audience in Latin America and Europe as effectively as we have done in Canada and the USA.
To Another 15 years!
So let's raise a glass to 15 years of success, hard work, and perseverance. Thank you to our incredible team and clients for making it all possible. Here's to many more years of NewIntelligence!

"NewIntelligence (NI) has been a joy to work with."
"NewIntelligence (NI) has been a joy to work with. We were initially concerned that we would not be able to fully use QuickStart as we don't have an in house IT department. NI showed us how easy it is to use Quickstart and they continue to promptly support us if we have any questions."
Bobby Keomany
VP Sales & Marketing, Thai United Food Trading Ltd.
Burnaby, British-Columbia

"The support we have received from them before and after implementation has been phenomenal."
"As CFO at New West Oil, I selected NewIntelligence as the product of choice for helping to get data out of our SAP B1 database in a more user-friendly and meaningful way. Corey Mendelsohn helped guide us through the process in a very structured way, without pressure, but always with great follow-up and thoroughness. "
Terry Cooney
CFO, New West Oil Company LLC
Glendale, Arizona

"It is a pleasure to work with Corey and experience his professionalism to ensure we expand our knowledge."
"We are currently working with Corey, expanding our use of the NewIntelligence tools and excellent Customer Service to ensure his solution fits our needs. It is a pleasure to work with Corey and experience his professionalism to ensure we expand our knowledge and find new ways to extract information from SAP B1"
Andrew Fairlie
VP Operations & Administration, Trux Accessories
Laval, Quebec

"We highly recommend the NI SAP B1 QuickStart for Reporting and Dashboarding Solution."
"Working with NewIntelligence as our IBM Cognos partner has been a great experience. They are extremely knowledgeable, and their customer service is outstanding. The implementation phase went very smoothly, and they have since remained available, even reaching out to us regularly to see how we are doing with the tool. They have continued to patiently support us and help us evolve within the Cognos tool."
Carole Lamarche
Director of Finance, Fischer Technology, Inc.

"We see a good partnership where NewIntelligence will help us meet those challenges and empower Arani's team to access good data."
"NewIntelligence listened to our issues and built a solution that met our needs with the ability to add more users and functionality as we grow. We see a good partnership where NewIntelligence will help us meet those challenges and empower Arani's team to access good data."
Dennis Daoust
VP Operations & Supply Chain, Arani
Montreal, Quebec

"Very professional and much appreciated."
"Following the IBM Cognos training the main user was very pleased with the sessions. The trainer knew the solution well and the training format allowed flexibility for real life questions… they even used our existing data to demonstrate functionality!! So in general, it was very professional and much appreciated."
Nathalie Legault
Manager, IT PMO, Domtar
Montreal, Quebec

"Their promises have been fulfilled 110%."
"I would like to take this opportunity to thank the NewIntelligence team for having completed the mandate of implementation of their Cognos solution. Their promises have been fulfilled 110%. Following last week's training, the excitement is at its peak and our people are looking forward to make use of the solution on a daily basis. A big thank you to all of you!"
Pierre Allard
VP Finance, Regal Confections Inc.
Laval, Quebec

"The experts at NewIntelligence have understood our challenges and guided us very well in our project."
"Since the beginning of our partnership with NewIntelligence, we restructured our cubes, had numerous training and, recently, a major migration. We are very happy with our IBM Cognos 10 release. Our users love the new Workspace tools and they would never go back to the old version for the world."
Jean Longpré
Vice President IT, CDMV Inc.
Saint-Hyacinthe, Quebec